The four themes for 2018 and our achievements at a glance
We launched a number of digital solutions for key customer segments such as retail, SME, corporate and private wealth solutions during the year.
Exponential jump in retail banking customers using digital services
Active users for Al Mubasher retail, the Bank's internet banking service for retail customers, exceeded 2018 targets.
Corporate banking customers increase interest in digital banking services
Active users of eCorporate, the Bank's internet banking service for Corporate customers, increased 12.5% over the previous year.
Digital solutions for SME banking
The eSME app was launched at end 2018 and is our latest offering for this important customer group, part of our contribution towards the Kingdom's Vision 2030.
eSME

The eSME application explicitly targets the Bank's SME customers. Existing Retail and Corporate customers will be migrated to the new application in order to provide them with improved services.

Functionalities available:

Home – dashboard
Current accounts
Balance certificate
Cheque book
POS management
Tax invoice
Bill payments
MOI payments
Transfers
Beneficiaries
Standing Orders

Payroll
Payroll cards
National address in eSME application
Pending actions
My profile
Marketing message
Users management
Token management
Alerts management
Activity logs
Online remittance numbers on the rise
Tahweel Al Rajhi, the Remittances arm of the Bank, launched the Tahweel app in mid 2017. Customers using this app had reached 279,509 in number by end 2018.
Increased use of digital channels
Our digital channels (comprising Mobile, Desktop, eCorp and the Tahweel App) are rising in popularity. In 2018, the use of digital channels for transfers rose 15% over the previous year, while digital bill payments (SADAD) increased 5% over the same period.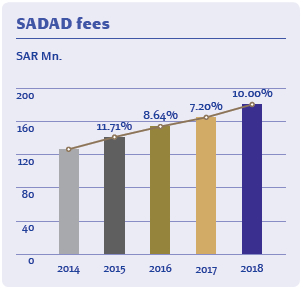 Online payment gateway increases in popularity
The Bank's online payment gateway is a secure platform that allows merchants to receive payments through credit cards issued around the world. By the end of 2018, transactions and transaction amounts at our internet payment gateway had increased substantially.